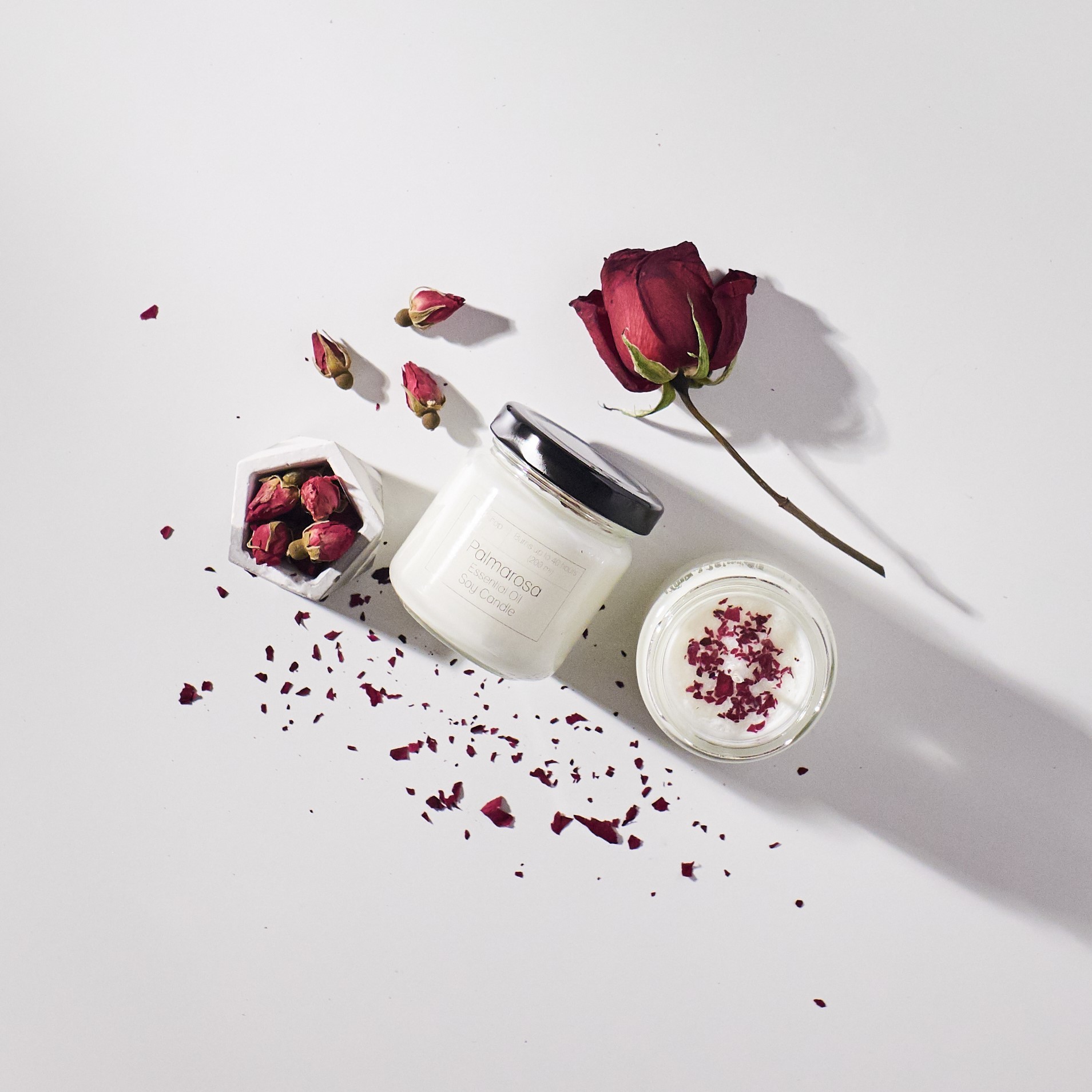 Palmarosa Soy Candle
Hand poured soy wax candle infused with Palmarosa essential oil that has a floral, fresh and sweet scent used to purify the air, relieve from respiratory problems and boost the immune system.
Burning Time (100ml): Up to 20 hours
Burning Time (200ml): Up to 40 hours
Shelf-Life: 6-12 months
Ingredients:
- Natural Soy Wax, Palmarosa Essential Oil, Dried Rose Petals
Candle Care Tips:
- During the first burn, keep the candle burning for at least 1-2 hours or until a full melt pool is formed to prevent candle tunnelling
- Keep the wick trimmed to around ¼ inch each time before lighting candle again for best performance
What are the benefits of Soy Candles?
- Natural: Soy candles are made from soybeans - a natural, renewable source made into natural soy wax
- Cleaner Burning: Soy candles are non-toxic and burn cleaner with little soot released as the candle burns
- Longer Lasting: Soy candles last longer due to slower burning time and cooler burning temperature of the wax
- Better Scent: Because soy candle burn more slowly, the scent is gradually released; there won't be an immediate wave of strong scent
Why Soy Candles instead of Paraffin Candles?
- Paraffin candles are made from petroleum, which is a non-renewable source that contains carcinogenic substances
- Burning and/or melting paraffin releases toxins (some of which are carcinogens) into the air
- Paraffin candles often create a significant amount of black soot that collects on the jar as well as on your walls
Why do we remain committed to using essential oils in our Soy Candles?
- Plant-based and 100% natural
- Users will receive therapeutic benefits of the oil
Customer comments
| Author/Date | Rating | Comment |
| --- | --- | --- |
---