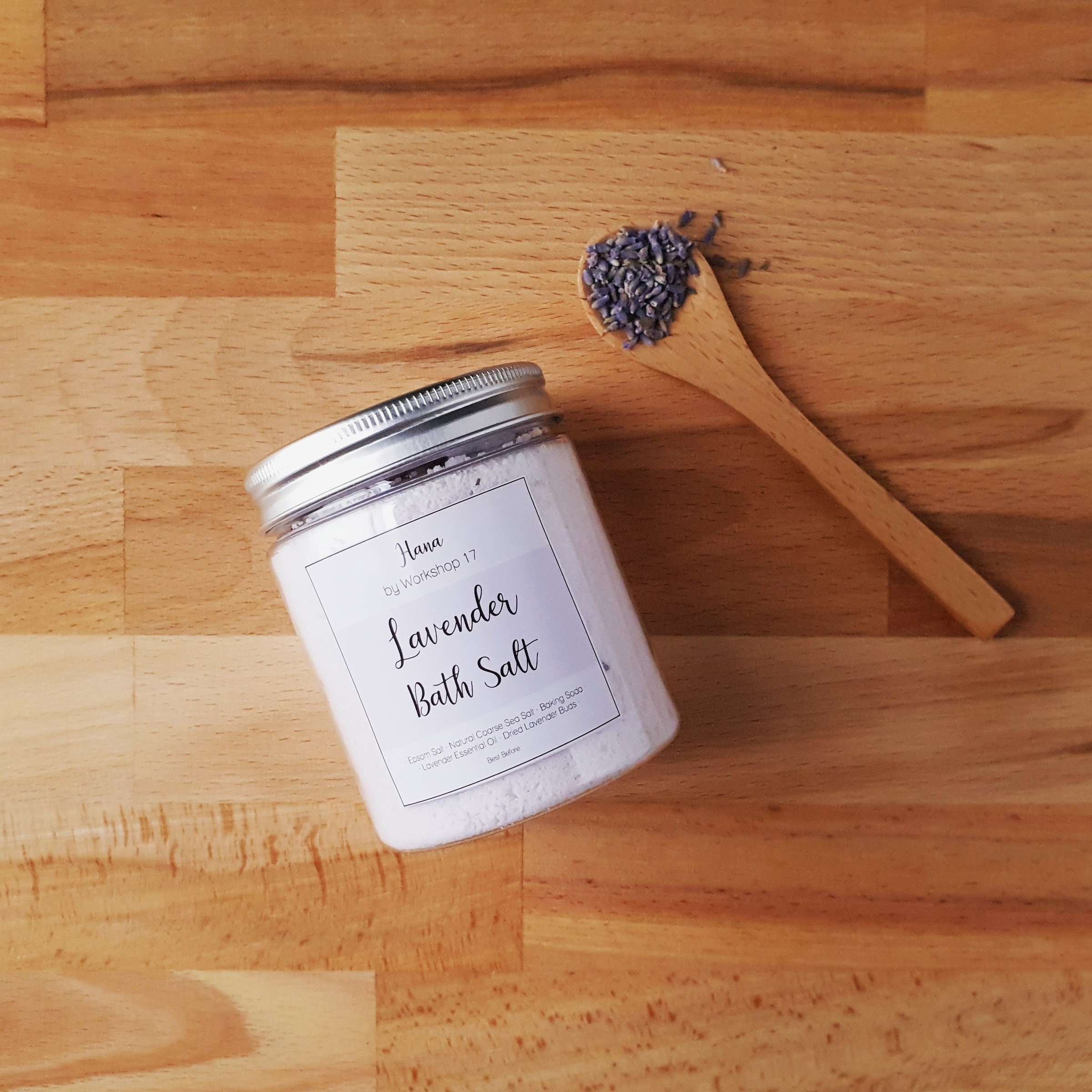 Lavender Bath Salt
Handmade bath salt with Lavender essential oil to help you achieve maximum relaxation and promote a good sleep. Our bath salts are baked to ensure best quality with minimum clumping.
Shelf-Life: 1-2 years
Size: 250ml
Ingredients:
- Epsom Salt, Natural Coarse Sea Salt, Baking Soda, Lavender Essential Oil, Dried Lavender Buds
What are bath salts?
- Bath salts are made with Epsom Salt as its main ingredient, a mineral compound of magnesium and sulfate that is used as a natural remedy for its various benefits:-
* Relieve stress
* Eliminate toxins from the body
* Treat digestive issues (such as constipation)
* Reduce pain & inflammation (sore muscles, migraine, etc) and more
- Bath salts are typically used for a therapeutic bath or soak because the magnesium and sulfate ions that can be absorbed through the skin when dissolved in water
How do I use Workshop 17's bath salt?
- Bath Tub Soak: Fill the tub half full with warm water. Stir in about 1/2 jar (120 g) of our bath salts until dissolved. For a stronger concentration, you can add more bath salts. Soak in the tub for 10-15 mins.
- Foot or Hand Soak: Fill a large basin three-quarters full of warm water. Stir in 1/4 cup of bath salts until dissolved. Soak your feet for 10 mins. You can also use it for a hand soak which will relieve any aches and pains whilst softening the skin.
- Shower Scrub: Use 1 cup of bath salts with 1/3 cup of oil (e.g. coconut oil). Mix the ingredients in a bowl, creating a thick paste. Apply some of the scrub to your body using your hands. Rinse well.
- Blocked nose and sinus congestion: Place a scoop of bath salt in a bowl with some boiling water. Use the salts as an inhalation with a towel over your head to clear the sinus and help you feel better.
- Healing bruises: Dissolve one scoop of salt in warm water, soak in a cloth as a compress then apply to the effective area.
Customer comments
| Author/Date | Rating | Comment |
| --- | --- | --- |
---